Yoga apparel line Vyayama was born from a desire to make clothing that reflects the yogic values of thoughtfulness and respect for all things. From the ultimate black legging (read on to find out what makes it so different) to a delicate cashmere sweater to wear outside the yoga studio, Vyayama's collections are minimal and versatile, and push the envelop of ecofriendliness. I caught up with founder Rachel Bauer and her creative team to talk about the yoga wear brand's origins, design inspiration, and the challenges surrounding making sustainability sexy.   
What motivated you to start Vyayama? 
VYAYAMA was started because we wanted to provide a beautiful, eco-friendly and sustainable alternative to synthetic yoga clothing. Clothing that is not made of oil, that is kind to the skin, made in a way that is respectful of the environment and the people producing it, clothing that gives the yoga customer a mindful choice. We thought there was a gap in the market for yoga clothes that represent yoga values in this way. We were also looking for yoga wear that felt like an extension of a modern fashionable wardrobe in a more feminine, rather than a sporty way.
What does the name Vyayama mean or represent?
VYAYAMA, (pronounced 'vai-ah-ma') is a 300 year old Sankskrit word that means 'to move'. The ancient Ayurvedic texts describe vyayama as movement designed to stabilize and strengthen the body.
I noticed that some of the products are made in Los Angeles, others in Europe. What determines where a particular piece is made?
Our production partners in LA had the no-waste technology we wanted to produce our 100% cashmere seamless sweaters with, so that is why they are local to our US distribution center. Our production partners in Europe, meanwhile, specialize in the creation of compression fabrics for active wear. They are leading the way in new developments in this field, and so they were the people we needed to help us create a brand new 'natural' compression fabric. In order to reduce our transportation impact, our fabrics are knitted in the same area as our garments are produced. So it's really the fabrication of the garment that determines where it will be made.
About the people who make Vyayama pieces, how do you find the right partners to work with?
We had to travel far and wide to find exactly the right partners who produce in the most ethical, environmentally friendly way. We generally work with smaller vendors who make hand-crafted batches.  We produce the majority of our leggings, tops, and T-shirts in family-run workshops in Portugal. These workshops are close to natural water resources and have strong unions to protects workers' rights. Production there takes place in between the two beautiful and healthy rivers, 'The Cavado' and 'Ave'. All the dye-houses have clean internal water treatments and in create no negative impact on the local environment. We are advocates of the #Whomademyclothes campaign' on Instagram. Take a look on our Instagram to see the lovely people who make our clothes!
Tell me about the materials you use How, for example, did eucalyptus become part of your compression fabric?
We only use natural and noble fibers that are Oekotex certified safe for the wearer. We have 100% cashmere sweaters, and our ultra-fine seamless layering T-shirts, use modal, which is a fiber extracted from beechwood forests. Modal is blended with just a touch of cashmere and feels amazing against the skin. For our compression fabric, we wanted to find a fiber that would be a healthy alternative to nylon.  Cotton uses too much water to produce, and viscose can come from non-regulated sources that could contribute towards deforestation.
After a lot of research, we found Tencel® as our answer. Tencel® is a new generation viscose. Unlike regular viscose, Tencel® is made from sustainably harvested eucalyptus, originating from a South African wood, that is Forest-Stewardship-Council certified sustainable. Tencel® is also high performance by nature, and doesn't need any added chemicals to wick moisture from your skin, or to stop bacteria growth on garments. The final fabric is a blend of Tencel® with Italian elastane. The result is soft and smooth to the touch, yet sculpting and supportive for movement in our tanks crop tops and leggings. It's biodegradable, non-toxic, skin PH neutral, naturally breathable and hypoallergenic!
"Honestly, one of the biggest challenges in launching a brand with ethical values is how to communicate the difference to consumers. What, for example, makes our black leggings so different?"
Did anything surprise you as you set up a sustainable and responsible production process? What were some of the biggest challenges that you faced, and how did you overcome them?
While Tencel® is not a new fiber, it hadn't yet been developed as a performance fabric. We spent over a year perfecting it, so we had to be patient! Technology has improved rapidly during the past five years, and has made the sustainable production process a lot smoother. That said, it still took a lot of time and testing to ensure that every part of the process is 100% up to our standard of ethics.
Honestly, one of the biggest challenges in launching a brand with ethical values is how to communicate the difference to consumers. What, for example, makes our black leggings so different? We designed our range of yoga wear to feel comfortable and look great, with those being the first reasons to buy. So then how do we let people know how much their individual choice of purchasing a sustainable product can make a difference, both for their own health and for the planet? Advocates for sustainability in fashion, like Amber Valetta and Vanessa Friedman have both mentioned how talking about 'sustainability' needs a little work! The language around it, including all the scientific references, shows the weightiness of the subject, so how do we communicate responsible fashion as sexy, fun and appealing? As Friedman says, "it is time to figure out the pop culture pitch" - which is one of the biggest challenges we face, too.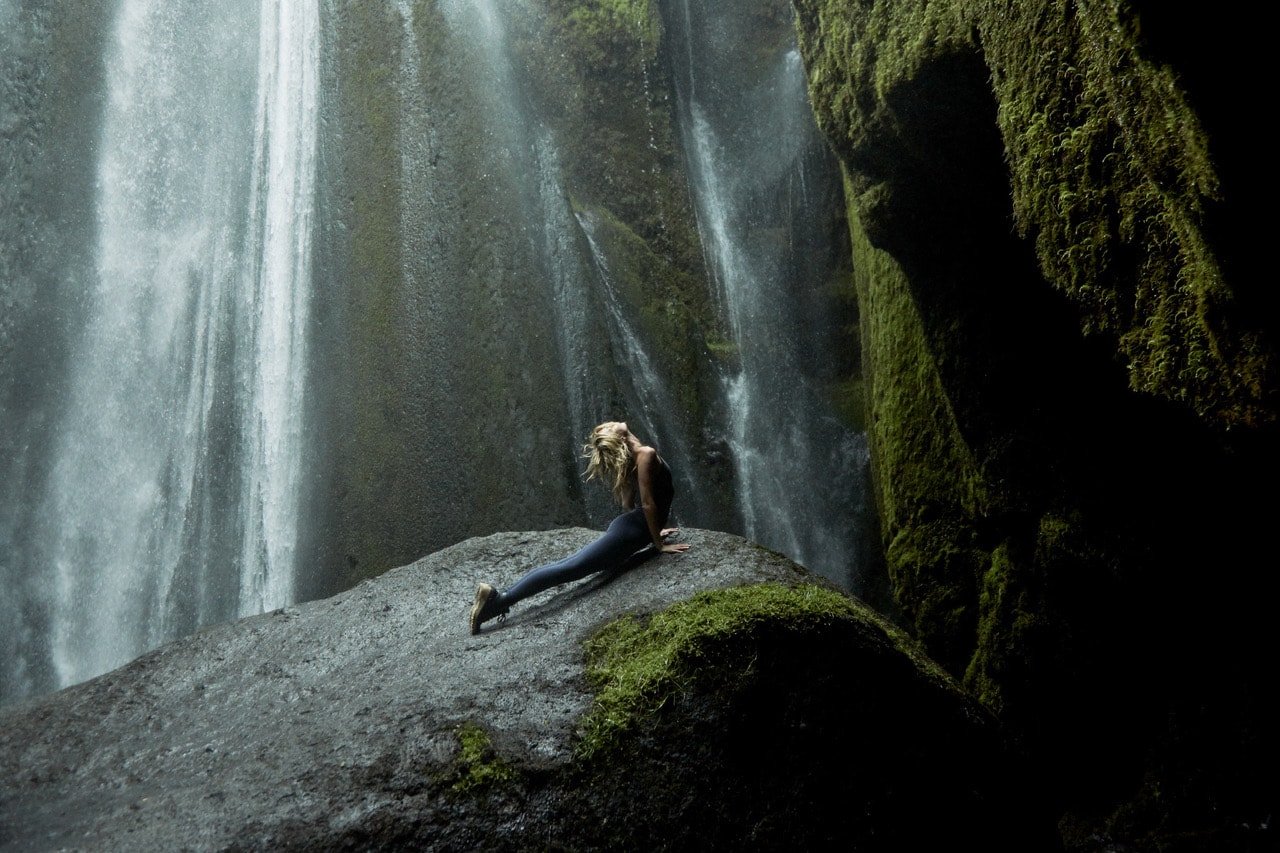 What is the inspiration behind your design process?
It was important for all of us who live in New York to create pieces that can be worn anywhere to take you through the day. A big part of that was creating the perfect black staples.
That's why we created our KALABLAKTM fabric. Kala is a word in Sanskrit which describes both 'black' and 'timeless'. KALABLAKTM is a blend of Tencel® and black Italian Elastane. These pieces never fade and are the darkest black, even when stretched while in motion.
We designed the collection to be a seamless integration with the rest of our fashion wardrobe, not just something to wear when being active. Our pieces are a more feminine alternative to sporty athletic yoga wear. Our tops have slender straps and delicate metallic details, and are designed to be seen under the layering pieces. Our leggings have an innovative, elongating one piece inner seam that makes a gusset unnecessary.
The black and white shadow printed pieces are inspired by shadow and light in nature. They are designed for exact pattern placement, because we wanted to bring the placement prints typically only used in ready-to-wear to yoga. Of course, we're inspired by the natural world and how we can bring that to the modern world. And finally, we are also very much by inspired by travel and the beauty of different countries. Our last collection was inspired by the rugged beauty of Iceland. 
How does your approach to clothing mix with the yogic approach to life and mindfulness?
We are advocates for healthy living, and we think it's important as a new brand to take the responsibility to offer clothing that is as healthy for you as the organic food you eat and the pure water you drink. We believe that the products we use and wear should be held to the same standards that we hold for ourselves.
__________________
Interview by Elizabeth Nicholas. Elizabeth is a writer and editor focused on the arts, politics, history, and literature. Her writing has been featured in Vanity Fair, VICE, TIME, and T: The New York Times Style Magazine, among others.
Like this story? Sign up for more.