"I always had a desire to understand the business side of fashion," says Cienne founder and creative director Nicole Heim. A designer trained at L.A.'s Fashion Institute of Design and N.Y.C.'s Fashion Institute of Technology, Heim worked in corporate design at global retailer Victoria's Secret for years before finding herself creatively unsatisfied and frustrated with the waste involved in corporate fashion. 
Taking what she refers to as a sabbatical, she quit and traveled through East Africa for several months, working with non-profits and simultaneously researching manufacturing opportunities, looking for a meaningful way to combine business and design. There, the seed for Cienne was planted—the idea that aesthetics and ethics could co-exist. Returning to New York, she recruited her best friend, fellow designer Chelsea Healy, and began to build the two-year-old brand Cienne. "I'd say it was a healthy mix of all the people, places and experiences along the way that led me to where I am today," she says. Below, Heim talks sustainable fashion, girlbosses, and right-brain/left-brain balance.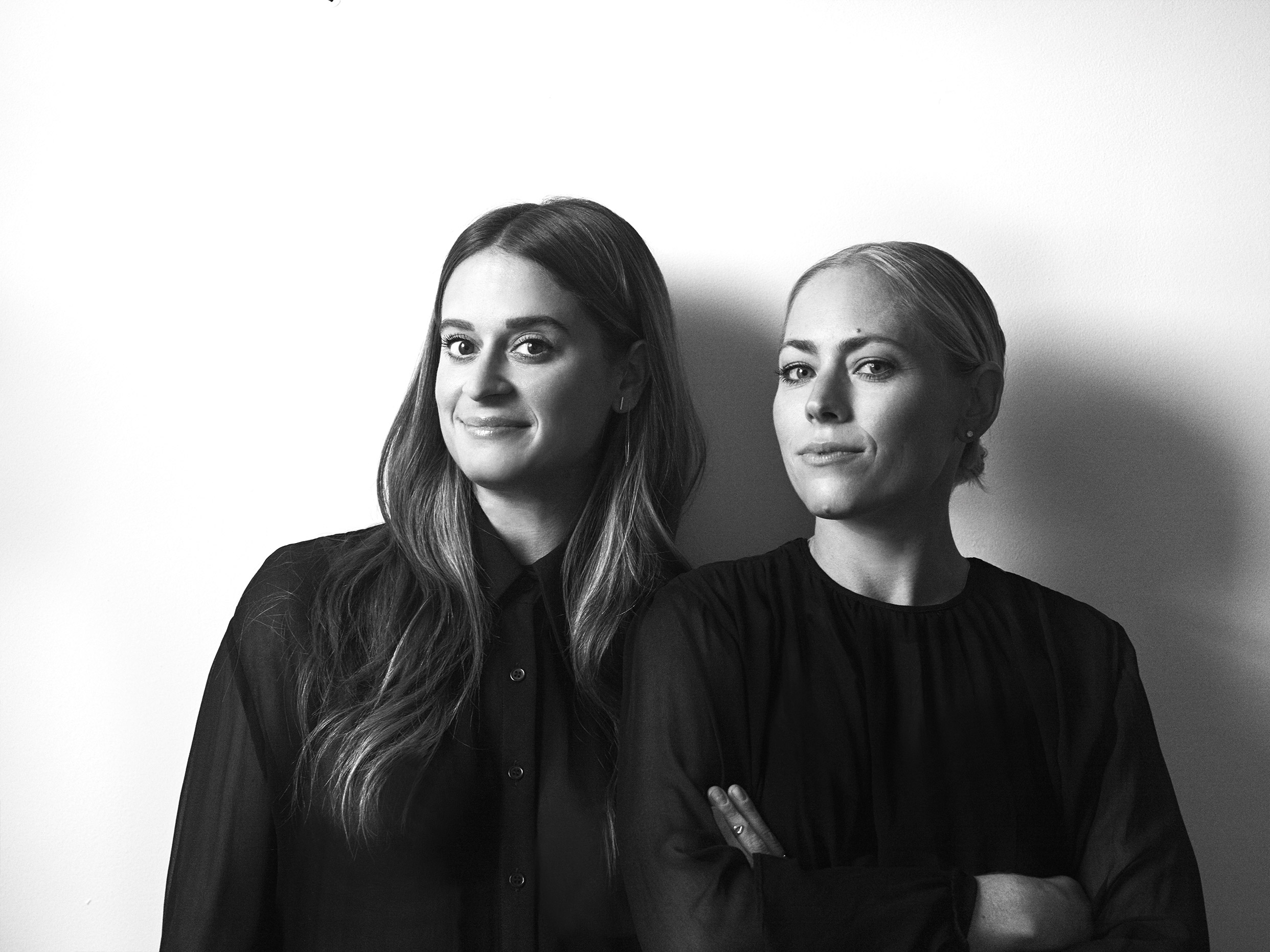 Courtesy Cienne / Chelsea Healy & Nicole Heim
What's your dominant role: designer or businesswoman?
I will say it's a balance, and I have to be really disciplined to create space for design as the business side often takes over. I come from a family of entrepreneurs, so elements of business come really naturally to me. However, it's being creative that gets me out of bed every morning, and it's been the one constant thing that's always dominated my life.  
What entrepreneurs do you find exciting or inspiring?
I tend to be most inspired by entrepreneurs outside of fashion. I'm a big fan of Scott Harrison and what he created with charity: water, and Steve Jobs has always been the ultimate visionary to me.
What lessons did you take from your corporate background into the founding of Cienne?
Victoria's Secret was an amazing place to work. I traveled all over the world, worked with amazing people, and learned a lot about manufacturing and global supply chains. I also worked and learned from some very smart female leaders, which was incredibly inspiring. I've always had a passion for brands, and Victoria's Secret taught me so much about what that word really means.
Why do you think we're seeing so many "girlbosses" emerge in fashion right now?
My entire career has been spent watching strong, smart women run big businesses. I think the difference now is that there's a wave of entrepreneurship happening in general. I believe technology has been a big reason as to why things are moving in this direction. Technology has created instant access to the marketplace, with tons of platforms and tools to support entrepreneurs in getting new ideas off the ground.
"Personally, my passion lies around the art of making, and preserving the creativity and craftsmanship that surrounds that. Ultimately this goes back to taking care of the people who make the things we wear."
What inspired you to return to the industry after having sworn off it following your Victoria's Secret days?
I was actually hesitant to enter back into the industry. But my disillusionment was more around contributing to the consumption of fashion and not feeling creatively inspired. Ultimately I decided if I did it on my own terms, I could get back on board with it. There's something very alluring about fashion that always has me coming back.
What's changed about the way you engage with the industry since starting Cienne?
I went from having all the resources in the world at Victoria's Secret to having none at all with Cienne, so I guess I really see the industry from a different perspective now. On a daily basis I work with so many artists, freelancers, small businesses, and family-run factories. I engage with fashion in a much more personal and human-centric way now.
What has most surprised you about running your own business?
How physically demanding it is. You'd be surprised at how heavy clothes are!
You grew up in California, now live in New York, and travel extensively. Would you say Cienne is grounded in a specific sense of place?
I've always traveled a lot and been eager to throw myself into new and foreign places. However, I'm also someone who loves being home, and could never imagine not having a place that nourished me in that way. I think Cienne as a brand is very similar. It's very globally inspired, but its sense of place is definitely rooted in New York.
Your line is exceptionally tactile, full of the kind of garments that make you want to reach out and touch. What textiles interest you the most, and why?
I love the word tactile! I've always loved to make things, and with everything going digital I've become increasingly obsessed with the tangible. I refuse to read a book that's not made of paper! I also studied color, print, and surface design in school, so I've always gravitated towards materials that were both visually appealing and interesting to the touch. For those reasons I tend to be most interested by fabrics that have texture and fluidity.
How do aesthetic concepts, such as simplicity and minimalism, work with your philosophical mission to "do more with less"?
Modern is a word we use a lot internally, as it evolves with time and speaks to the creative dynamics beyond just clothing. I like the idea of defining what it means to be modern today, whether that relates to the values of our brand or the clothes we create.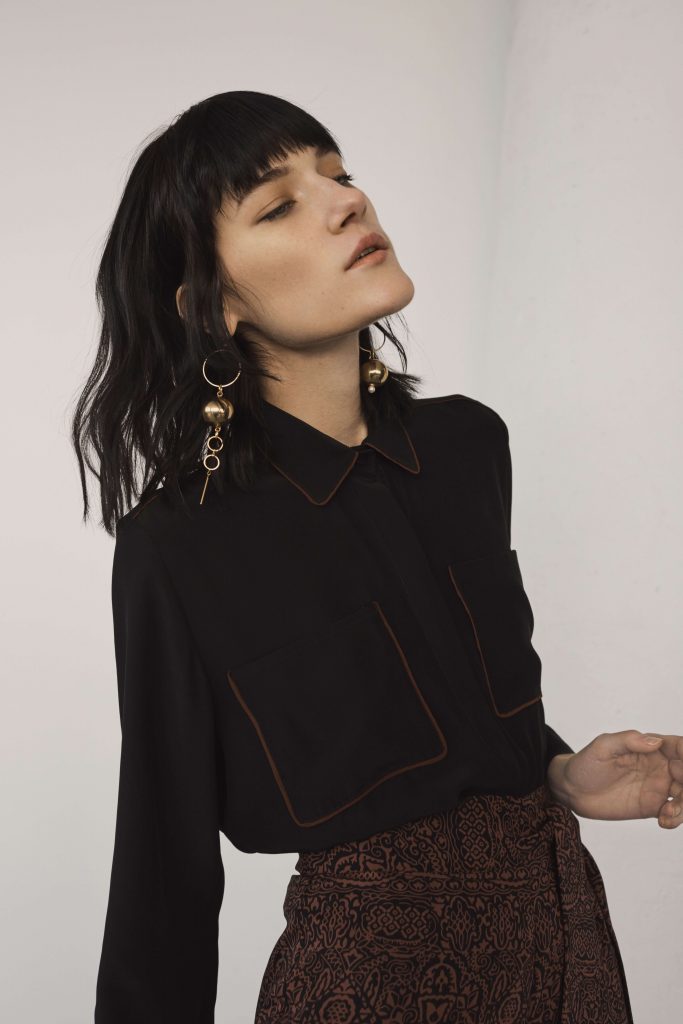 Courtesy Cienne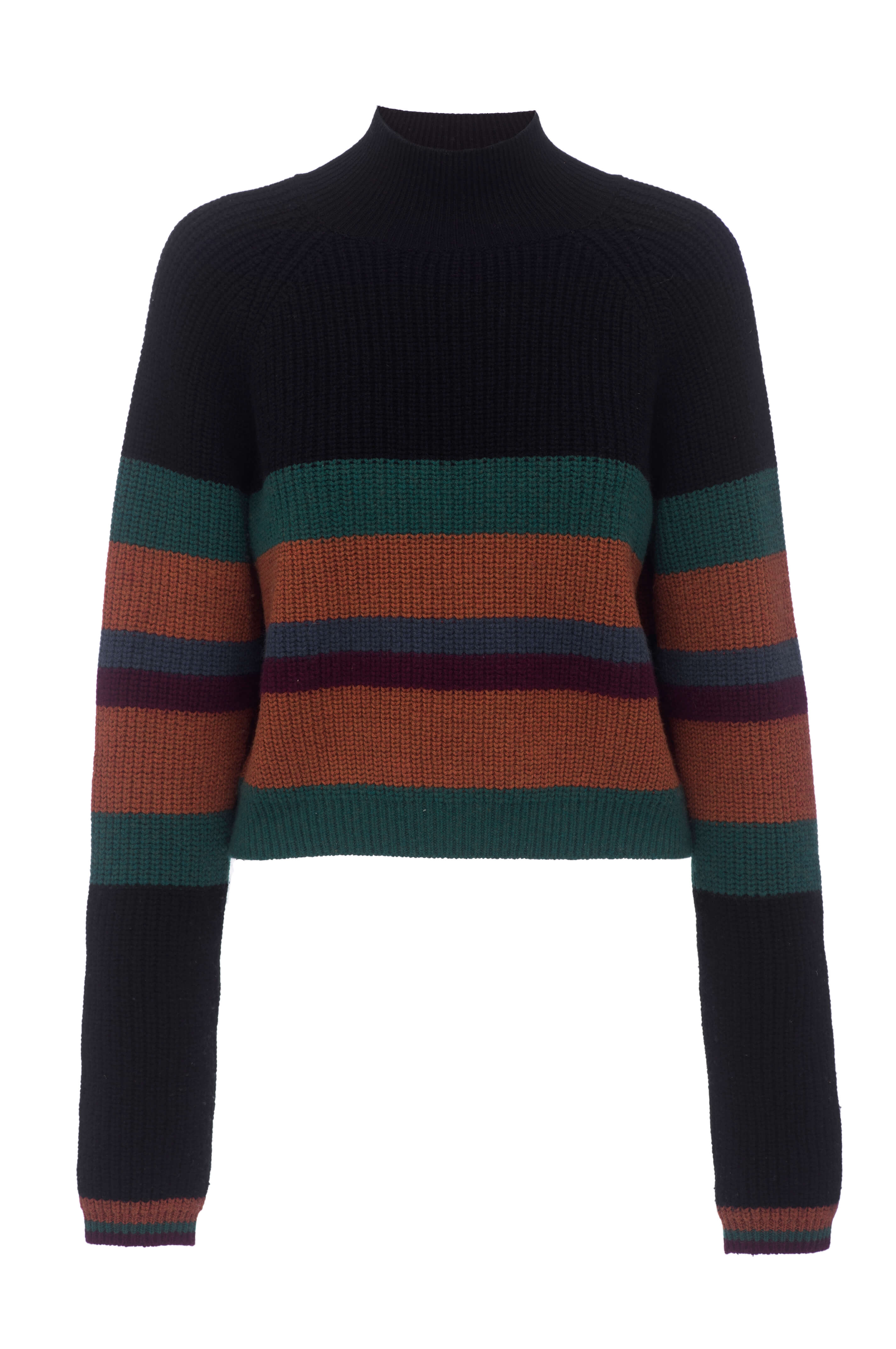 What does it mean to you when you say Cienne is an ethical or socially responsible company?
I think "ethical" and "sustainable" are words that have little-to-no definition in fashion, which means there's opportunity for each brand to define what that means to them. Personally, my passion lies around the art of making, and preserving the creativity and craftsmanship that surrounds that. Ultimately this goes back to taking care of the people who make the things we wear.
For example, our Adam Sweater is knit in Mongolia and made of a cashmere wool blend. In Mongolia, generations of nomadic herders have been harmlessly producing some of the finest cashmere fibers in the world. We love going to the source of something; finding people who are experts in their craft, and going to the natural place a material derives from. It's not only good for the environment, community, and global economy, but in this case, it also preserves the craft and stabilizes a historically significant supply chain.
Have you seen a shift in customer attitudes towards shopping with ethics or sustainably in mind?
Yes, I definitely have. In fact, I'd say I've seen a big difference in the last year specifically. People are much more considered in the way they purchase. And that to me is exactly how it should be. I've always been interested in changing the "buy better" narrative. I think it's our job as a brand to present an option that's both aesthetically up to par and ethically made, ultimately shifting the responsibility from consumer to company.
What's the oldest piece in your closet? The newest?
I have a silk blouse and matching skirt from YSL in the early 1970s that's pretty fun. The newest pieces are from Cienne's FW17 collection. Cienne also has built up an amazing vintage clothing and textile library—antique French textiles from the early 19th century, silk dresses from the 1920's, leather jackets from the 1990's.
What's on your nightstand? Your coffee table?
My nightstand has books and a glow in the dark star that my niece gave me. My coffee table is a rotating collection of books, art/fashion mags, sandalwood, and candles.
In one word, the epitome of luxury is...
Enjoyment.
The epitome of style is...
Confidence.
And clothes should make you feel...
Powerful.
11/02/15 Update: Cienne is a finalist in the 2017-2018 CFDA + Lexus Fashion Initiative and will be participating in a sustainable business development program running through next summer. We're looking forward to more news in 2018.
What's your definition of sustainability? Do you think the responsibility for a more ethical fashion industry lies primarily with the consumer or the brands? Tell us what you think in the comments section.  
__________________
Interview by Kerry Folan. Kerry is a writer and editor with a special interest in sustainable fashion. Her work has been published in the Washington Post, Racked.com, and Glamour.com, among other media.
Like this story? Sign up for more.